1 properties for sale in Granada
Discover the latest properties for sale in Granada from leading Spanish and International Real Estate Agents.
Read More
Our Granada estate agents are keen to assist you in finding your dream home in Spain.

Less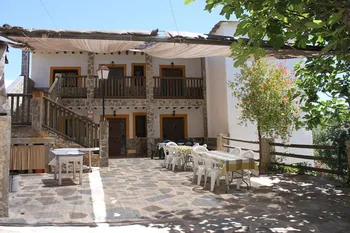 Apartment in Granada
This property is something very special. It is not only a winery, but also a farm with rural accommodation.

Is situated in Laroles, a beautiful mountain Village on the province of Granada and at the edge of Almería. Also on the way to the old road to Guadix, this unique Eco farm is embedded in a wide valley.

It was created years ago with the idea of practising viticulture in Andalusia, and this has been implemented very successfully, with the pass of the time the owners wanted to go into the organic way, and it's been also very successful.
The total area comprises about 40 hectares of land.
It is used as follows:

-1.5 hectares of organic vineyards, cultivated in the classical trellis manner.
-5 hectares (about 900) of organic olive trees in full production with underground irrigation.
-2 hectares of arable land, also organic
-There are also a lot of fruit trees on the finca in production.
The organic winery grows the following grape varieties and the vineyards are on average 25 years old:

-Red wine: Tempranillo, Cabernet Sauvignon, Grenache, and indigenous varieties.
-White wine: Macabeo, Airen, Vigiriega, and indigenous varieties.
In 2020, 12,700 litres of wine were produced.
Since 2021, the production volume has been reduced in order to harvest a sweet wine in November that has already been awarded a gold prize at an international tasting in 2022, as well as a red wine from the 2021 vintage.
At the moment there are more than 6,000 bottles of wine in stock (Crianza, Reserva, and Gran Reserva).
The winery is being sold complete with all machinery, tanks, barrels, storage equipment, etc.

There are 145 m2 of agricultural buildings on the farm with 2 water tanks and a natural water basin.

On the property there is a rural house, that can accommodate more than 20 people. Its split into 3 apartments with 2 o 3 bedrooms, independent kitchen, bathrooms and terrace, all fully equipped. In front of the building there is ample parking and a large barbecue with outdoor area where guests can sit together in the summer. Total build of 391m2.
Next to this house is a fantastic swimming pool with 20 x 10 m2.

On the finca there are also solar panels as well as photovoltaic cells and batteries for storage the energy. This electricity is used for the guest house and the winery.
There is also a lot of wild land on the property and its own hunting ground. There are wild boars there, among other things.
Goats can be kept on the property, since there is land and stables to have them.
It takes 1 1/2 hours to walk the footpath on the finca. Access to the entire property is possible from 2 different country roads.
The winery with the guest house is ideally situated in the middle of the land and is very private.

Please don't hesitate to arrange an appointment with us to view this amazing property and become a wine maker.
8
8
400 m2
40000 m2