1 properties for sale in Villanueva del Rosario (Municipality)
Discover the latest properties for sale in Villanueva del Rosario (Municipality) from leading Spanish and International Real Estate Agents.
Read More
Our selection of houses in Villanueva del Rosario include 2 villas and 3 fincas / country homes. Our Villanueva del Rosario estate agents are keen to assist you in finding your dream home in Spain.

Less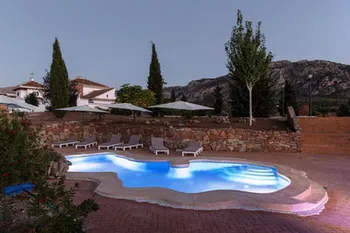 Finca / Propiedad rural in Villanueva del Rosario
HUGE PRICE DROP FOR A QUICK SALE. Was € 1.800.000 Now € 1.300.000

A lovingly restored, award-winning boutique B&B, consistently rated as one of the best B&B's in Andalusia. Each room is individually and luxuriously designed for total comfort. They currently rent out 9 bedrooms with private bathrooms. In addition, there is a ground floor (possibly an owners house) with two bedrooms, one bathroom, conference room, laundry room and beautiful bodega. Outside we find 7 unique gardens, a playful swimming pool, jacuzzi, mountain views and the beautiful Alhambra water garden for evening dinner or events.
It is a popular venue for weddings, parties, corporate events, private groups, yoga retreats etc. This fantastic boutique B&B is located in a completely renovated (2012) Andalusian cortijo. The Cortijo is surrounded by mountains amidst olive groves, on a private plot of over 30,000 m2. It is very easy to reach, just 1.5 km from the A92 motorway to Málaga and Granada. From the electric gate you drive past the large parking lot (50-60 places) over the long driveway to the imposing gate of the large patio.
There is so much to admire in and around this interesting building. From Moorish ceilings, to the most beautiful mosaics, the patio in the main house to the high ceilings. This is a building where you will continue to marvel at the beauty.
The owners created an organically designed pool that blends seamlessly into the beautiful scenery all around. It is an environmentally friendly saltwater pool with luxury sunbeds with towels and umbrellas. There is also a beautiful jacuzzi for 12 people. The honesty pool bar is a great place for a sunset cocktail, a refreshing juice or fresh cerveza!
In the garden behind the pool, several places have been created to entertain you, for example with a life-size chessboard. The olive grove is still being harvested and is located just past the pool and the giant play area.

The cortijo offers guests the perfect lounge to relax on the huge comfortable sofas with a drink, a book or some music. It's a great place to mingle with other guests, for example around the fire on cold evenings. The lounge has direct access to one of the terraces.
The décor is inspired by various religious icons, with huge cabinets specially made for the high ceilings. There are many interesting corridors and corners, many of their favorite collected objets d'Art are in this room. Please note: Not all furnishings/art are included in the price (full list on request). The large dining room is simply spectacular, from the rich delightful décor to the antique table settings, curtains and artefacts.

The huge Moroccan courtyard in the middle of the house is the place for most breakfasts and has handmade tiles, fountains and orange trees, with large umbrellas for shade.
When you enter the gates, you will be struck by the colors of hundreds of beautiful geraniums, carnations and roses in the courtyard of Plaza Andalucia. Then stroll through palm court, the colonial garden, cocktail terrace and North Africa to the, for the current owners, favourite part – the traditional English garden with its bridge and meandering stream!
But the showpiece of the property is undoubtedly the walled Alhambra garden. Designed as a tribute to this World Heritage Site in Granada, they built their own central waterway with thousands of hand-painted tiles. There are luxury sunbeds, a sofa and shade in the logis.
In the summer evenings, this turns into a beautiful al fresco eatery for dining, weddings and events.

The unique Alhambra garden is a romantic setting for any meal or wedding, with night lighting and central water feature, all made from a dilapidated empty concrete shell by the owners themselves.
They have each room in the cortijo in Andalusia uniquely renovated. There are handmade details, antique and modern amenities, sumptuous mattresses and luxury linens for the stay. With brand toiletries, fluffy towels, private bathrooms, massage showers, free bathrobes, free wifi... and incredible views.

The Cortijo is a beautiful location for a wedding. They have organized many here. And the weddings have been featured in many magazines and on Channel 4's TV series "A New Life in the Sun" 2016-2019
They have also organized birthdays, anniversaries, engagement parties, special dinners, BBQ's and paella parties, special holidays, company parties (there is a conference room) and wine tastings. All figures on request after a viewing.

Due to their retirement age , the owners have decided to sell.
11
10
827 m2
250 m2
30182 m2