2 Propiedades en venta en San Martín de Tesorillo
Descubra las últimas propiedades en venta en San Martín de Tesorillo de las principales inmobiliarias nacionales e internacionales.
Leer Más
Nuestra selección de casas en San Martín de Tesorillo incluye 2 villas y 1 fincas / casas de campo. Nuestros agentes inmobiliarios en San Martín de Tesorillo están encantados de ayudarle a encontrar su nuevo hogar en San Martín de Tesorillo.

Menos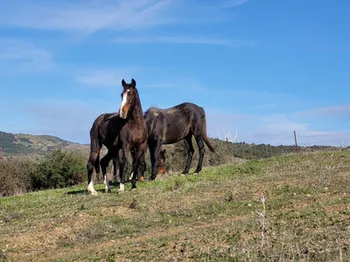 Finca / Propiedad rural en San Martín de Tesorillo
BIG drop in price, from 2.5! Wonderful country estate (horses), 6 dorm, very close to Sotogrande.

Montenegral is located in the heart of the Horse Valley, a name which is not surprising in a landscape of green fields and Mediterranean forests, Cork trees and Orange groves. It's common to see horse riders along the innumerous tracks due to the 12 polo fields in the surrounding area. Plus the beautiful and semi abandoned Eiffel Bridge (yes, the one of the Tower). All of this, pure countryside, exactly 15 minutes by car from Ke in the centre of Puerto de Sotogrande.

This property is less than five minutes walking from the exquisite Hotel Spa Finca Monasterio. It has a total surface of 17 Hectares (42 acres), with a main house of 16 years old, well maintained and with an internal surface of 300 sqm, all on one floor, for many a true luxury. It also has ample terraces, a swimming-pool and several other annexes, including 6 horse boxes (the owner has had as many as 18 horses at a time free in the fields)

The property has its own well and wáter storage capacity of up to 30.000 litres.
It is connected to the general electric supply aswell as an individual system of solar panels.

When you reach the house, half way up a slight hill, you access directly into a very large living and dining area with a chimney and high ceilings. This leads onto an ample porch and pool area enjoying panoramic views of the countryside… and only the countryside. On one side of this ample living space there are three large bedrooms with two bathrooms. On the other side is the master bedroom with en suite and walk-in closet. A door leads to the service area: large kitchen with two additional rooms and bathroom, which could have many purposes (staff, storage, office etc,…). Overall can be up to six bedrooms and four complete bathrooms. We kindly suggest looking at the 3d video incorporated which allows one to move freely inside the house.

A specialist property meant for someone who really loves the countryside, dogs and horses… if you belong to this group, it is very likely you will adore it. We are ready to show you.
6
4
350 m2
80 m2
170012 m2

Villa en Sotogrande
AN EQUESTRIAN ESTATE OF QUALITY - CLOSE TO SOTOGRANDE. This luxury property lies in a QUIET VALLEY just a few miles inland from Sotogrande. There are about 20 ha of gently rolling hills and also large almost flat areas. About 14 ha are reserved for fully fenced and WATERED PADDOCKS AND MEADOWS. The main house sits atop a small hill enjoying PANORAMIC VIEWS over the valley and the surrounding country. The single storey main house was built in 2005 with a main en-suite bedroom plus two more en-suite guest bedrooms, a granny flat and an office.
The spacious main reception room has HIGH 'CATHEDRAL CEILINGS' with open fire place and French windows leading to one of the covered terraces. The dining room opens to the second terrace and also to the smaller reception room or library. Next to the fully and professionally equipped kitchen is the spa including a gym, FINNISH SAUNA & HAMMAM as well as another guest apartment.
The pool surrounded by tropical vegetation and colourful plants boasts a THATCHED POOL HOUSE and well equipped summer kitchen. Not far from the main house are the stables with 12 boxes, a small riding arena and several other outbuildings including 2 STAFF/GUEST COTTAGES. The property has mains electricity plus a fully automatic stand-by generator and a private well licensed for 500 m3/day including a water treatment plant and 2 large reservoirs. The property is protected by a full burglar alarm system with CCTV. All buildings have central heating, the main house being operated with gas and the guest cottages with fuel oil. A beautiful property IN BEAUTIFUL LANDSCAPES!
8
7
1770 m2
100 m2
200000 m2